FILTRATION - (MF, UF, NANO AND RO)
CWT's tertiary treatment line of systems provides the full scope of filtration for applications which require a fine degree of particle removal. Tertiary treatment is Ideal for water re-use, water recycling and drinking water.
CWT's Microfiltration (MF), Ultrafiltration (UF), Nanofiltration (NANO) and Reverse Osmosis (RO) can be skid-mounted or containerized according to Client preference. Systems are custom designed to handle a wide variety of streams ranging from direct discharge to well water and sea water processing.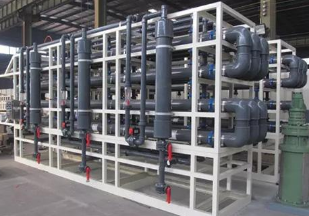 CWT'S FILTRATION ADVANTAGES:
Fully skid mounted systems minimizing site installation labor and duration

Operator friendly, enhanced by a simple-to-operate HUMAN MECHANIC INTERFACE (HMI) console

Engineered using best available technology and components from leading manufacturers

Designed for durability, easy maintenance and minimal operational costs

Standard and custom-built systems. The former designed and built for mounting in standard trailers

Large volume purchasing power cuts on the cost of components, which in turn are passed on to our clients